After several years (seven since my first proposal, three since becoming an owner), my time at BlinkTag is finally drawing to a close.
While I pause to reflect, here are my favorite projects from the wonderfully weird and continuously auspicious experience that's been BlinkTag.
Many people (including honestly my parents) still ask What is BlinkTag? Officially, it's a SF-based team that makes technology easy to use for city and transportation planners. But really, it's a home for people who love public transit, feel stifled in traditional consulting firms, and want to make transit rider information to flow. It has healthy obsessions with tiki bars and Japanese transit mascots. And if you're lucky, it's a great place to grow into the professional you want to be.
511 Contra Costa
When I moved to California in 2008, two of the only five people I knew in the whole state had just started BlinkTag and were already working for 511 Contra Costa. By the time I was wrapping up graduate school in 2013, 511CC had grown to the point of having social media, and they needed someone to staff it. I had a few other big contracts lined up, so this seemed like the perfect way to continue balancing technology and transportation and see where it could lead me. Eventually, the role grew to the point of needing a dedicated marketing expert, but I got to hang around and make graphics.
Turns out, I like design. A lot. I knew I liked painting and pottery, but I never have the time or justification to create art for art's sake. 511CC is generous enough with their content, and trusts us enough with their budget, that I got to make some cool stuff while getting comfortable with Illustrator.
Bay Area Rapid Transit
One of those big contracts out of graduate school was with BART. I published a TRB paper with BART data, and in the process developed some good connections. When they needed someone to inventory their parking facilities, I leapt at the chance. Turns out, BART has a lot of parking spaces, and no one, not even me, really knows what's happening with them at any given moment, but I produced a full set of diagrams that tell the most complete story available.
Was it tedious? Definitely. But it was a great excuse to hang around the BART access department at a fascinating point in their history, and it resulted in a set of maps that I still love flipping through.
User Engagement Microsites
After my larger public agency projects wrapped up, it was time to figure out what to do next. This is when I began to realize the opportunity of BlinkTag for professional reinvention. Do you like graphic design? Then try designing websites – someone will mentor you, and you can expect to teach it forward later. Hop onto a few existing projects, teach yourself Sketch, and *boom* now you're a web designer.
BlinkTag has built dozens of simple survey tools for transit agencies, but every agency is unique and wants its brand to show through. Even though this design was never implemented, it's still my favorite.
Later, the Atlanta Transportation Plan asked for a simple interactive voting game based on the theme of parking meters. They wanted their staff to be able to move around a workshop with the site on tablets and collect votes, and their staff and users loved it.
(Spoiler alert – the best option is always building housing on top of transit!)
Agency Websites
By 2016, I'm a fully functional user interaction designer. I'm detail-obsessed to the point where I'm being hired to review other websites, so it's time to start building our own larger sites from scratch. Putting that detail-obsession and our past projects to work, I started writing the kind of monster 20-50 page public agency proposals that make consultants weep. And it worked (I'm leaving BlinkTag with a 36% proposal win rate).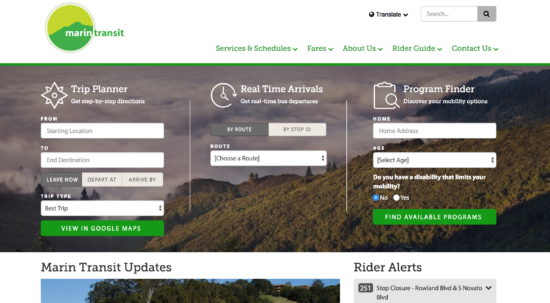 Just when all this is getting to feel solid, when we've got as much work as we can handle, and when it feels time to level up again, another opportunity came along that I couldn't turn down. But I can't leave without acknowledging how ridiculously lucky I've been. BlinkTag has been exactly what I've needed when I've needed it, as it's been for others, and I trust it to continue to be.
I set out to prove there was space to work between planning and technology, and we did. I wanted to make complicated information accessible to the public, and we did. And I wanted to prove that it was possible to build good, reusable, user-centered tools without gouging technology-phobic public agencies, and we did.
It's been great fun, and it's with a heavy heart and not insignificant anxiety that I depart this fun, safe, supportive space for a new challenge.