Despite the staleness of this personal website, 2020 was a busy year. I bought a house and moved to Truckee, lost my job, started consulting to Caltrans, renovated a bathroom, and won an appointment on the Truckee Planning Commission. My eagerness to will bike and transit infrastructure into existence have translated into being a busy civic volunteer. So far the mayor and town council have graciously encouraged my ideas, to the point where I'm licensing modeling software and writing white papers on the weekends.
This first one is worth sharing for a few key discoveries.
Despite having more residents, and a higher percentage of residents that commute long distances, Truckee has substantially less transit service than similar resort communities. This includes both shorter service hours and fewer trips per hour. For example, our transit wraps up around 6-7 PM, while Whistler's runs past 3 AM. Other towns have 12-15 minute peak headways, while we have to wait an hour between buses.
It would cost about $3.6 million to connect Truckee to both Reno and north Lake Tahoe with transit 20 hours a day, seven days a week, with 30-minute headways each way. This is over a million dollars less than our regional airport's annual budget surplus in 2020.
The full report is pasted below. I'm not sure what comes next, because while I know a lot how transit is "supposed" to work, I don't know as much about getting it started. I'm hopeful I can at least inspire others to share my enthusiasm.
---
Truckee Regional Commuter Transit: Vision Document
Submitted to Truckee Town Council, January 2021
It's still dark in West Reno where Lauren is starting her day. She lives in Sparks and commutes to her job as a nurse at the Tahoe Forest Hospital in Truckee. This morning, like every other, she drove to a Park and Ride to catch the bus to Truckee. She waits in her car with her coffee until the Truckee Regional Express pulls up. She climbs aboard, taps her phone by the door to pay, and pulls out a book as the bus makes it way onto I-80. About an hour later, the bus exits off the freeway and makes a few other stops along Donner Pass Road before pulling up to her stop at the hospital. Lauren gathers her things and alights.
After her ten-hour shift, Lauren walks to Downtown Truckee to meet some friends and grab a late dinner. When the conversation wraps up and people start to peel away, Lauren checks her favorite trip planning app to see when her next bus will arrive. She walks to the Truckee Transit Center, and snags a window seat for a quick nap on the ride back to her car.
The purpose of this document is to:
Inspire wildly ambitious and creative thinking about how Truckee residents and employees can reduce their need to drive to and within Truckee.
Set expectations for the level of financial support required to expand commuter bus service to Truckee.
Suggest general next steps to continue the exploration.
This document is organized as follows.
Regional Commuter Transit
Truckee's Need
Similar Communities
Modeling Transit Costs in Truckee
Costs in Context
Further Exploration
Regional Commuter Transit
Regional transit, put simply, gives people an alternative to driving long distances. When transit systems focus on serving commuters (people with relatively predictable schedules and consistent travel patterns) they can potentially erase large numbers of parked cars and driven miles.
Think of regions where a significant percentage of people commute to work by transit. What do those systems have in common?
High-frequency service
Long service windows
Thoughtful stop locations
High-frequency service
If you miss your train or bus, how long do you have to wait for the next one? How much earlier do you need to leave to make sure you're on time?
TART currently operates at 60-minute headways, but actually takes significantly more of a person's time to reasonably use. Consider the following scenarios.
You need to clock in at work by 8 AM, and the bus is only scheduled to arrive at 7:15 and 8:15 AM, so you would have to sacrifice an extra 45 minutes every day just to be on time with transit.
You choose to wake up early and show up at 7:15 AM, but what if the driver calls out sick, or the bus has an unexpected maintenance issue? Now you're standing around waiting a full hour just to be 15 minutes late.
You need to catch the 5 PM bus home, but you'll spend much of the last 20 minutes of your work day checking the estimated arrival time on the agency's website to make sure you don't miss the bus. If the bus doesn't have real time information, you may reasonably choose to arrive at the stop extra early in case it's running ahead of schedule, committing even more time to take transit.
How frequent is frequent enough? It depends on the area, how many people are using the service, and what is competitive with other transportation modes. In New York City, the subway runs every 2-10 minutes during rush hour. In San Francisco, streetcar lines run every 10-15 minutes during rush hour. For Truckee, 15-30 minutes would be appropriate during peak periods.
Long service windows
How early and how late does the service run? Limited service windows are a problem if you:
Need to be at work before service starts or stay later than it runs (people without "9-5s").
Work within the service window, but you aren't ready to rush home and want to grab dinner or shop locally.
People want flexibility and the confidence to know that they won't be stranded. For comparison, BART runs from 5 AM to around midnight most days. Bay Area tech shuttles typically deliver people to the office between 7-10 AM, and begin bringing them home from 3-8 PM, but note that only desk workers are allowed to use these shuttles, and janitors, cooks, and others must make other arrangements. TART runs roughly from 6 AM to 6 PM. Service windows should be informed by local research and surveys, but expect demand to start peaking around 6 or 7 AM and extend until after 9 or 10 PM.
Thoughtful stop locations
Transit should stop near:
Major jobs centers (such as schools, colleges, hospitals)
Places where people will want to linger in the evening after work (Downtown Truckee)
Places with ample all-day parking (park and rides)
Also consider stop density.
Routes with too many stops are slow, because pulling over and getting back into traffic adds delays.
Routes with too few stops require their riders figure out how to travel that "last mile" between the stop and their destination.
An able-bodied person in good weather with good sidewalks can reasonably walk a mile in twenty minutes. Urban transit advocates have observed that in good conditions, people readily walk ¼ mile (5 minutes) to a local bus stop and ½ mile (10 minutes) for regional or express transit. Those lengths are averages, and people have higher tolerances for walking with:
Good pedestrian facilities, such as crosswalks and sidewalks that are wide, clear, and smooth.
Good bicycle facilities, including bike share, bike lanes, and bike storage on transit.
Based on the above, regional stops should be no closer together than one mile. With two stops a mile apart, a person in the middle would have to walk no more than half a mile to either stop.
Truckee's Need
Many people live in either Truckee, Tahoe, or Reno and commute to one of the other three communities. Though three three places are environmentally, politically, and socioeconomically distinct, our transportation futures are intertwined.
The most recent decennial Census found that two-thirds of Truckee residents work in Truckee, Reno, Tahoe City, Sacramento, or Incline Village.
According to Truckee's 2040 General Plan, 25% of Truckee residents commute over 50 miles to get to work, mostly in southwest Placer County and as far away as Sacramento County.
Also from the 2040 General Plan, 22.6% of Truckee workers commute from over 50 miles away, mostly in southwest Placer County and Sacramento County. Another 15% commute from Reno.
At the same time, Truckee is becoming more aware of the high cost of parking. We've long known that our money and land could be put to better use than storing vehicles. We're now seeing an increasing number of projects proposing to sacrifice desirable public amenities because of the need to store cars.
Truckee's employees and residents need a viable alternative to driving.
Truckee, Reno, and Sacramento are already connected by Amtrak's California Zephyr route. Despite being more appealing to riders, train service is substantially more expensive than bus service and Amtrak service planning is further outside Truckee's influence. Fortunately, trains have a much higher capacity to offset their higher operating costs, and buses are a flexible tool to establish and prove traveler demand.
Similar Communities
Residents know that Truckee is special, but when it comes to our transportation demands, this is especially true. Being a resort town comes with specific disadvantages.
Our housing market is unaffordable to many local workers, forcing them to commute from far away.
Our residents are better educated than average, and travel far to participate in competitive job markets.
For comparison, consider the following similar resort communities.
| | | | |
| --- | --- | --- | --- |
| Town | 2020 Population | % Commuting <20 min | % Commuting 60+ min |
| Truckee, CA | 16,474 | 50% | 12% |
| Aspen, CO | 7,431 | 53% | 7% |
| Whistler, BC | 11,853 | 90% | <1% |
| Park City | 8,375 | 51% | 7% |
Source: US Census
Each of these comparable communities has significantly better transit than Truckee.
| | | | | |
| --- | --- | --- | --- | --- |
| Town | Peak Frequency | Service Start | Service End | Major Hubs |
| Truckee, Tahoe Truckee Area Regional Transit (TART) | 60 min | 6 AM | 11:30 PM | Truckee, Incline Village and Tahoe City, each within 30 miles |
| Aspen, Roaring Fork Transportation Authority | 12 minutes | 4:30 AM | 11:30 PM | Glenwood Springs, the closest large affordable community, about 50 miles away |
| Whistler, BC Transit | 15 minutes | 5:30 AM | 3:30 AM | Most routes connect downtown to neighborhoods within 30 miles |
| Park City, Park City Transit | 15 minutes | 6 AM | Midnight | Most routes connect downtown to neighborhoods within 30 miles |
Source: Transit websites (linked in table)
Modeling Transit Costs in Truckee
To understand the approximate level of effort required to support meaningful Regional Commuter Transit, the following section proposes scenarios and relevant costs.
Methodology
The author proposed three routes connecting Truckee to Reno, Lake Tahoe, and Sacramento (the most common workplaces of Truckee residents outside of Truckee). She used Remix Transit, produced by San Francisco-based Remix, to create theoretical routes. Remix Transit calculated approximate operating costs, based on drivers, fuel, and other mileage- and time-based expenses.
The author then created timetables for each route based on the following service windows.
| | | |
| --- | --- | --- |
| Schedule | Frequency | Weekday |
| A | 15 minutes | 4 AM – midnight |
| B | 30 minutes | 4 AM – midnight |
| C | 60 minutes | 6 AM to 10 PM |
Each timetable was created absent any existing Amtrak or TART service, in order to estimate conservative (high) costs.
The three routes and their associated operating costs are described in the following sections.
Truckee to Reno (Purple Line)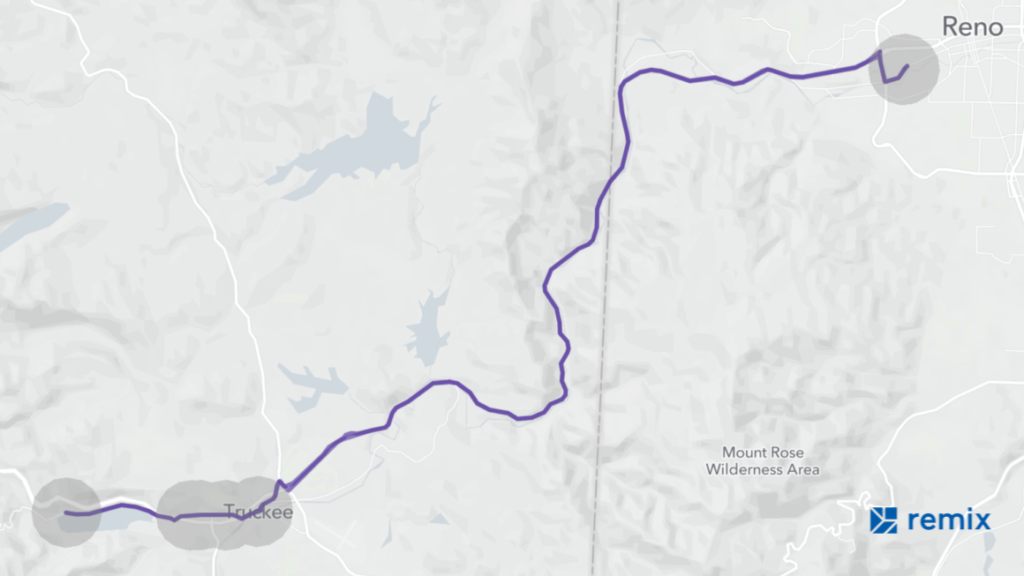 Stops:
Donner Lake
Gateway (at Northwoods Blvd and Tahoe Forest Hospital)
Downtown Truckee
West Reno (Park and ride)
Key statistics:
72-miles round trip
32 minutes from Downtown Truckee to Reno
17,852 people live within one mile of a stop
| | | | | |
| --- | --- | --- | --- | --- |
| Schedule | Frequency | Weekday | Annual Operating $ | Number of Vehicles |
| A | 15 minutes | 4 AM – midnight | $3.36 million | 5 |
| B | 30 minutes | 4 AM – midnight | $1.7 million | 3 |
| C | 60 minutes | 6 AM to 10 PM | $705,300 | 2 |
For reference, adding a stop at the airport would increase the operating cost by about 3%, while removing the Donner Lake stop would reduce it about 5%.
Truckee to Lake Tahoe (Green Line)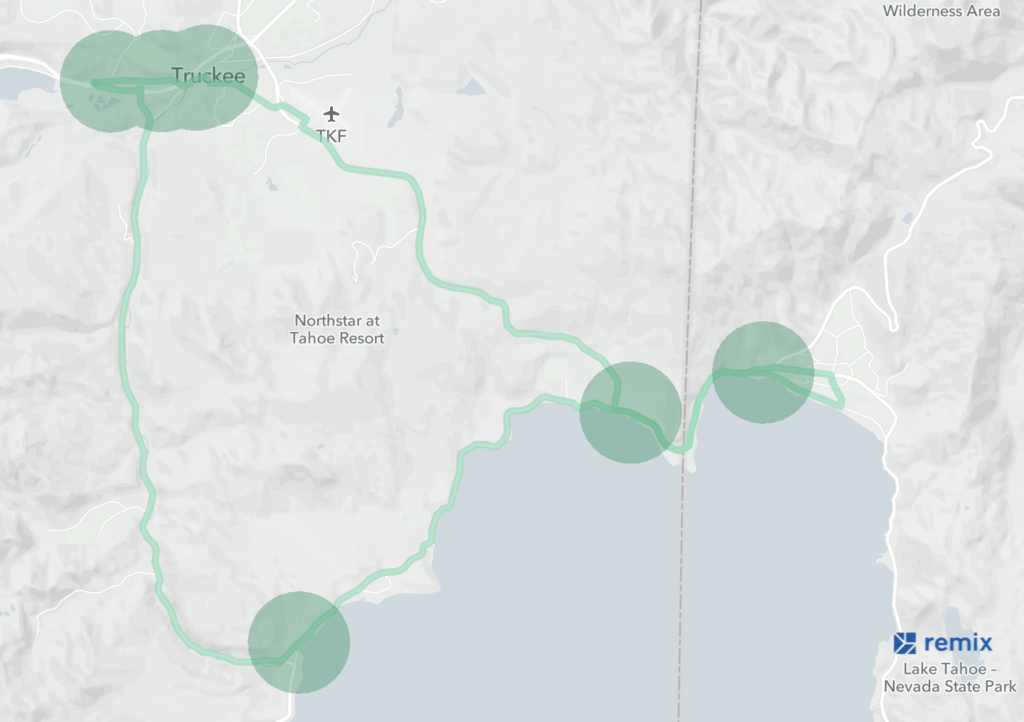 Stops (loop route):
Downtown Truckee
Kings Beach
Incline Village
Tahoe City
Gateway (Northwoods Blvd and Tahoe Forest Hospital)
Downtown Truckee
Key statistics:
50.4-mile loop
29 minutes from Downtown Truckee to Incline Village
22 minutes from Downtown Truckee to Tahoe City
7,465 people live within one mile of a stop
| | | | | |
| --- | --- | --- | --- | --- |
| Schedule | Frequency | Weekday | Annual Operating $ | Number of Vehicles |
| A | 15 minutes | 4 AM – midnight | $3.6 million | 5 |
| B | 30 minutes | 4 AM – midnight | $1.8 million | 3 |
| C | 60 minutes | 6 AM to 10 PM | $762,200 | 2 |
The key drivers of this route's cost is its length and low prevailing speeds, which require more vehicles and drivers to maintain higher frequencies.
Truckee to Sacramento (Gold Line)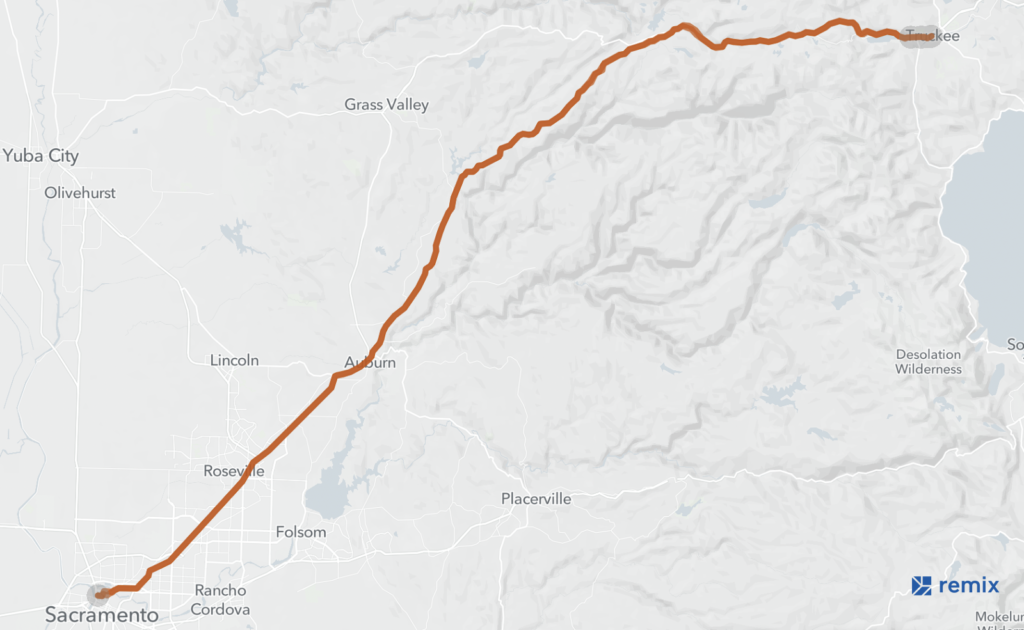 Stops in:
Downtown Truckee
Gateway (Northwoods Blvd and Tahoe Forest Hospital)
Downtown Sacramento (Park and Ride)
Key statistics:
200-mile loop
1 hour and 53 minutes from Downtown Truckee to Sacramento
14,649 people live within one mile of a stop
| | | | | |
| --- | --- | --- | --- | --- |
| Schedule | Frequency | Weekday | Annual Operating $ | Number of Vehicles |
| A | 15 minutes | 4 AM – midnight | $9.32 million | 13 |
| B | 30 minutes | 4 AM – midnight | $4.7 million | 7 |
| C | 60 minutes | 6 AM to 10 PM | $1.9 million | 4 |
This key driver of this route's cost is its length, which requires more vehicles and drivers to maintain higher frequencies.
Costs in Context
Providing high quality, regional bus transit that connects Truckee to Reno, Tahoe, and Sacramento would cost several million dollars. For discussion's sake, focusing on just Truckee to Reno and Tahoe, while enacting the moderate Scenario B, would still cost about $3.6 million a year to operate and require six vehicles.
In addition to operating costs, capital costs vary based on the type of vehicle. New programs typically rent smaller vehicles, and invest in larger vehicles once ridership grows.
| | | |
| --- | --- | --- |
| Vehicle Type | Seating Capacity | Approximate Cost (New) |
| Minibus | 14 | $70,000 |
| Standard diesel bus | 40 | $500,000 |
| Standard electric | 40 | $750,000 |
Three million dollars seems like a lot, and it is. Very few transit systems fully fund their operations from fares, and urban bus fares typically only cover 24-47% of operating expenses. This leaves quite a gap.
Instead of framing transit as expensive, consider the price of the alternatives.
Free parking is expensive.
In August 2020, the Tahoe Forest Hospital brought forth a proposal to convert 15 acres along Donner Pass Road into surface parking. Truckee land is generally priced at $250-300k per acre, valuing this land at $3.75-4.5 million.
The national median parking structure construction cost was $19,700 per space in 2017, exclusive of land acquisition costs.
Commuting by car is expensive.
Driving a reasonably fuel-efficient car (30 mpg) between Truckee and Reno five days a week will cost over $10,000 a year in gas and vehicle maintenance, aside from the cost of the vehicle itself.
That same commuter emits 11,186 pounds of CO2 a year.
The Truckee region already taxes its residents significantly for transportation.
The Truckee Tahoe Airport District had a $4.8 million budget surplus in 2020.
Further Exploration
If running high quality transit were easy, we would already be doing it. Instead, it will require leadership, hard choices, and creativity.
A few questions for Truckee to consider as it looks toward its transportation future.
Is there a limit to the amount of parking we're willing to build in our community? What is it, and what defines it? What would we do with that space otherwise?
Who in our region would benefit from the existence of reliable, frequent regional commuter transit? What costs would it reduce for them, and by how much?
What does Truckee expect from its regional agencies? Are we participating vocally enough to advance our needs? Are we being heard?
What would Truckee need to do in order to show that we're serious about regional transit? What would leadership look like here? What resources would be necessary?